Our last Tuesday play until March will be November 13. Friday play will continue until December 28.
The Friday league has been a great success. We have had over 200 different players over 31 weeks. Our kanban league software has improved since we started in March. All matches can now be scored on your mobile phones. Players can receive texts when their next match is up, or just check the scheduled and on-deck matches in the app. If you cannot make it down or are running late, you can watch the match results come in in real time. The entire season is available for browsing at ttcentral.com
Our final Friday league night will be on November 16. We will have a party that night with prizes and refreshments.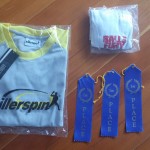 All can compete, however you must have played at least 6 matches in past weeks or have both wins and losses to win prizes. Players can only win one prize each.
Most rating points gained – Killerspin shirt
Best record of match W-L – $10
Best record of game W-L – $10
Best record of points W-L – $10
Consolation prize – Worst record of points W-L – Balls of Fury underwear, guaranteed unworn
Also please note there is no table tennis on Saturday, December 8 due to the annual "Pathway of Lights".