The GLTTC ran a kanban league on Friday nights from 6 to 9 pm in 2018. The league director was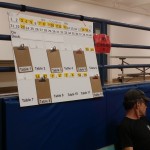 David Marques. The GLTTC has been be the first Seattle table tennis facility to run a kanban league. Kanban leagues utilize USATT style ratings in order set up matches with players of similar levels, however the format is a bit different from the usual group/table based league. Players are assigned matches with a web app. The app seeks to schedule matches so that everyone gets to play as much as everyone else, and so that the matches are between players of similar levels based on their rating. Ratings are adjusted dynamically throughout the night, instead of at the end of the night.
Kanban leagues have several advantages over group/table based leagues. Since the app schedules each match at any of the available tables, more matches can be played in an evening. The system also adapts for players who come late or leave early.
You can sign up in advance at https://ttcentral.com/accounts/signup/ or just show up on a Friday. The directors will work with you to determine a starting rating. If you have questions, you can write to the league directors at league@glttc.com.
The Green Lake Community Center is giving us this night for free again (pick up a free Quick Card at the front desk), however there is a $1 suggested donation to defray league expenses.